I am thankful each and every day
for the things you do.
The times you spend listening
when I have problems and
the warm embraces that show you care.
The gentle kisses that say
The gestures that say I am a
special person in your life.
Not only do I love you,
but you're my best friend.
I love you not because of who you are, but because of who I am when I am with you
You are my rock
You stole my heart, but I love you anyway
Here's my heart, opening for you,
take it darling it belongs to you
Don't say you love me unless you really mean it, cause I might do something crazy like believe it
I love you as big as the sky, as tall as the mountains and as deep as the ocean
My world is a better place because of you
I didn't know love before I met you
You are to me as a flower to bee
You are my everything
You are my truest love
You are my dream come true
I love you to the moon and back
Without you, I would be…(add your own emotions)
These are my favorite things about you…(add your thoughts)
I need nothing more from you than to know that you'll always be mine soul mate.
Nobody else can know my thoughts
and touch my soul like you can
No one can melt my heart like you do
simply by being who you are.
Our love is an unfinished masterpiece
growing more precious each day.
You manage to say
in so many different ways.
With love as our music,
I know we'll find the way
to be there for each other
and enjoy the dance each day.
There's a special place in my heart
that only you can touch -
a place where I can go and feel you near.
Throughout the day I think of you.
I see your smile, hear your voice
and in my thoughts you lovingly appear.
The way we love each other
makes it hard to be apart
so when I can't hold you in my arms,
I hold you in my heart.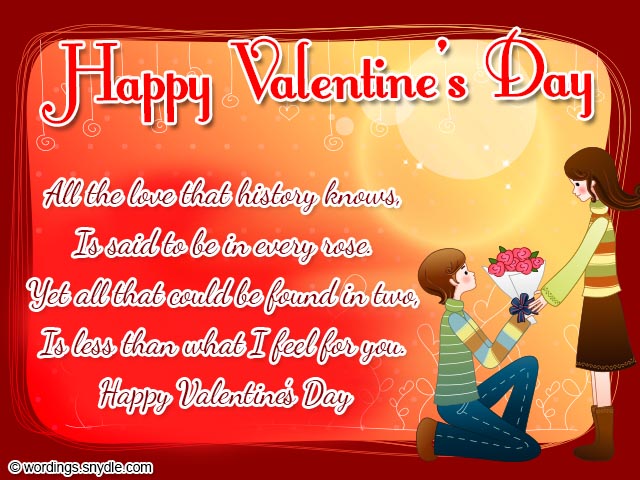 We have shared the suns and
the storms of life.
Its mountains and its valleys...
And always you have been
my inspiration,
my helping hand,
my happiness,
my love.
What would it be like to swing on a star,
or walk on a cloud?
Would it be anything like what I feel whenever you are near?
With a loving glance or a tender kiss
you make my cares disappear
Warm thoughts of you surround me
and always keep you near.
With the start of each new day
I find myself thinking of you...
In the middle of my busy day,
my mind wanders and I think of you...
Out of nowhere I see your smile,
hear your laugh and I think of you...
Life is beautiful now because I fall in love
all over again each time I think of you